hello everyone ! i hope you are all doing good. today i have decided to share what's in my everyday makeup bag . i love seeing what's in the makeup bag of other girls, i find that interesting .so basically, i have this makeup bag just to retouch my face throughout the day , so it doesn't really contains a lot of makeup.
as you can see, it is just a small lightweight mini bag . i love the " je suis une princesse... " message on the bag, it definitely defines me ahaha (just kidding).
so now, what is really inside this cute bag?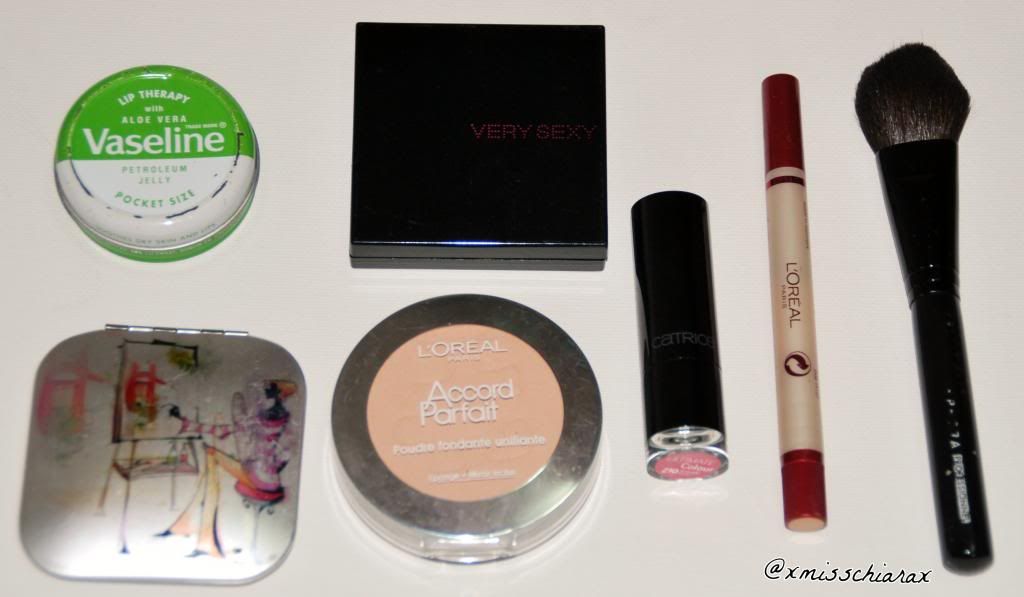 Vaseline's Lip therapy balm : this is a life saver for me. especially during winter. my lips get dry easily, so every time i feel that it is dry i just put this on and it instantly soothes my lips. most of the day i don't wear lipstick or gloss, i just use this one .
Victoria's Secret Very Sexy Blush / Highlighter Duo in Runway: for me this is the perfect blush for me, the color looks natural on me. i love that this is a duo, so it is really travel friendly .
duo mirror : i don't know the brand of this one because it was just a gift but i know that , if you're from Belgium, you can find these mirrors in Galerie Inno. it is a dual mirror, one is normal and the other one is more magnifying..
L'Oréal Accord parfait unifying powder: this comes with a sponge but i don't really use it. i have combination to oily skin so this is a lifesaver too. it mattifies my skin very well.
Catrice's Ultimate Color Lipstick in 210 Pinkadilly Circus : this is my go to lip color. it is not that nude, nor not that pink. even though i don't wear lipstick everyday, i always have to have a lipstick in my bag, because you will never know when do you really need some tint on your lips. i think that lipsticks can definitely change your look.
L'Oréal Infaillible Multi-Usage Concealer: i love this. it is so pigmented and matches my skin tone. i only need a little amount to cover some imperfections, concealers, etc. it is similar to Dream Lumitouch concealer by Maybelline but this one is definitely more concentrated.
lastly
Sephora - Professional Blush Brush # 42 : it is the perfect blush brush / powder brush for me. not too small not to big . i use this to retouch my face with blush or even my face powder. when i use it for my face powder, i quickly clean it by swirling it over a tissue to get off that blush excess powder, so i won't have pink blush all over my face.
so that sums it all up. how about you ?
what do you have in your everyday makeup bag ?
xoxo,